We voted AGAINST her lies.
But now she's plotting one final devastation...
Will THIS be Crooked
Hillary's Secret Revenge?
[31,747 DEAD in 2017. If you're over 55, see the warning below to protect yourself and your spouse.]
We voted AGAINST her lies.
But now she's plotting one final devastation...
Will THIS be Crooked
Hillary's Secret Revenge?
[31,747 DEAD in 2017. If you're over 55, see the warning below to protect yourself and your spouse.]
Don't let Crooked Hillary's Cartel pocket millions at the risk of you and your family's health!
Join HSI today as an exclusive member so you can fight back and protect yourself from the Cartel's Executive Plan 5.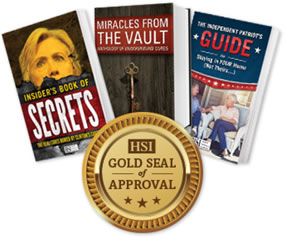 Here are just a few of the benefits you'll receive when you join HSI today.
As an HSI member, you'll be entitled to…
Your Three Free Welcome Gifts: Insider's Book of Secrets, Miracles from the Vault and The Independent Patriot's Guide to Staying in YOUR Home (Not Theirs…). Shipped free right to your doorstep, these three books are 640 pages chock full of breakthrough cures and healing miracles covering nearly every disease… from Alzheimer's to asthma… from cancer to diabetes… and more! Combined, these reports have an estimated total value of over $479, but today, we'd like you to have them absolutely FREE.


The HSI Member's Alert Newsletter. Each month we will send you a private report of our latest findings in natural medicine from around the world… plus how to get them and use them yourself.

This thorough 8-page report is a breeze to read – and makes sure you always have access to our best cures, whenever you or a loved one needs them.


Breaking News E-Alerts. Just like the rest of the news in the world, healthcare can be pretty unpredictable. So that's why we make sure you're always covered – even between Member's Alerts.

Whether it's a new drug warning or price hike, or even a natural breakthrough you can use to feel better right now… we only send the news that matters to YOU.


Deep Discounts for our Seniors and Vets. Here at HSI we appreciate all of our members, but especially our seniors on fixed incomes and military veterans who served our country.

That's why we negotiate special discounts on your behalf for most of the supplements we recommend.

Before you buy anything, check the Members Only Source Directory for coupons, and see what kind of savings we deliver. This alone is worth TWICE the "price of admission."


Full Access to Members Only Content in our HSI Library. Once you join HSI, you'll be given your own personal password to access our online treasure trove of cures – virtually everything we've published from our 20-year history.

Got a health question? Just type it into our speedy search bar and BOOM... The answer will be in front of you in an instant.


Our 100% Money-Back Member's Guarantee. We're so confident you'll love everything you find inside your HSI Members Welcome Package… including your incredible free gifts, private access to rare underground health miracles, discounts and more… that you'll consider it an incredible value for the low membership cost.

But if for any reason during your membership you decide you don't need these benefits – just say the word, and we'll issue you an immediate refund. And you keep your free gifts no matter what!
And there's so much more!
With so many Member benefits to take advantage of, you might now be wondering where to begin.
That's why, as soon as you join, we'll send you a brief email summarizing all your benefits…
Everything is spelled out in crystal clear directions as soon as you join. It couldn't be easier or more helpful.
And, rest assured…
Every single piece of information, every article, report and book… the products we recommend are all Gold Seal quality.
We pride ourselves on being a completely independent organization. And we only print the truth.
In fact, we're SO picky about the cures we recommend to you… we reject over 98% of everything we find that claims to be a "natural miracle."
The truth is, most are snake oil, pure bunk or just don't have the science to prove that they work.
That, my friend, is how you can trust you're getting a proven solution.
Becoming a member is simple… just fill out the form on the next page, and pay the small fee we ask to cover the costs of researching and bringing real cures to you.
(You'll see that it's about the same as buying one cup of coffee per month – that's it!)
Plus, just a reminder, you're always covered by our 100% Money-Back Member's Guarantee – even if change your mind in 1, 5 or 11 months from now.
And you keep all your free gifts, even if you cancel!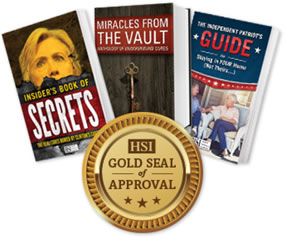 So… are you ready to take the next step? Just click that big orange button at the bottom of this page to RSVP "YES!"
You'll be taken to the next screen where you can let us know where you'd like your gifts shipped.
The entire process will take two minutes, and you'll immediately get a confirmation email when we've received your membership application.
And when your free gifts are delivered to your doorstep…
Start using the life-changing breakthroughs inside to get healthier than you ever dreamed possible.
And remember, you take NO RISK when you give HSI a try today.
So you have nothing to lose!
Just click below to unlock your HSI benefits now.
Whatever your health concern is today… or tomorrow – we have you covered.
Welcome to your new, healthy, joyous life.