Don't miss the life-saving, natural alternatives to
Big Pharma's poisonous "copycat" drugs!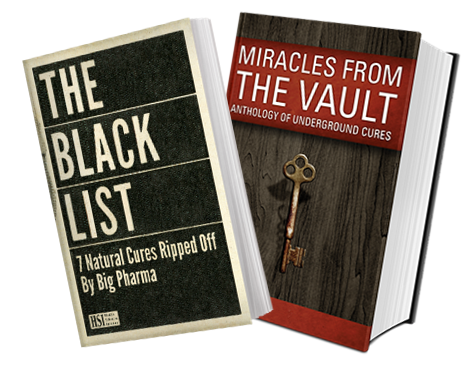 The minute you become an HSI member, we'll send your copy of The Black List right away – which uncovers the 7 copycat drugs pushed by Big Pharma.
Keep in mind, when you join HSI today, you'll also get your very own copy of Miracles from the Vault – yours to keep forever no matter what.
And remember, these medical masterpieces are absolutely FREE when you accept our invitation to HSI membership.
PLUS, you'll get ALL the official benefits of being an HSI member:
HSI MEMBERS ALERTS – This is HSI's monthly newsletter. You could call it the heartbeat of HSI. It's where many of the breakthroughs you're hearing about right now were first revealed to our members. Each issue is so easy to read you can breeze through it in minutes – yet so thorough even your doctor will be impressed with the research. And it's delivered by email for easy instant access.
And in between these monthly bulletins, we'll keep you up-to-date with…
FREE INSTANT HEALTH ALERTS VIA EMAIL – this is why HSI members always seem to know about the latest health news before their friends and relatives. From newly-discovered dangers of popular drugs and treatments (which often aren't covered in the news) to the latest developments in the fast-paced world of natural medicine… Each weekday, we'll make sure you have the information you need to stay safe and healthy.
And you'll get something worth many times the price of membership:
FULL ACCESS to the world famous HSI Internet Archives. The moment you accept our membership invitation, you'll get a password to our secure online archives – the world-renowned database of HSIs natural treatments and protocols! Just type your question into the search box, and the answer is a few clicks away.
Not to mention…
VIP ACCESS TO CUTTING-EDGE TREATMENTS. As I mentioned earlier, both your book and your Members Alerts include MEMBERS SOURCE DIRECTORIES, telling you how to obtain and use the miracles we report on. And when supplies are limited—as the newest formulas sometimes are––we intervene on behalf of our members. So you're not just first to know about the breakthroughs, you're first to get access!
MEMBER DISCOUNTS ON HARD-TO-FIND SUPPLEMENTS. With 299,000 members worldwide, we're often able to use our influence to negotiate special discounts for you. So you get the best treatments on earth, at the best possible price.
And there's so much more!
If it all sounds a little overwhelming, don't worry. As a new member you'll get a nice welcome letter that explains all your benefits.
And everything we send you – whether it's an email alert, the monthly newsletter, or one of your free books – is written in plain English, with print that's easy to read.
Just click the button at the bottom of this page to get started, and remember…
It's completely risk free. As an HSI member,
your satisfaction is 100% guaranteed.
We stand behind everything we deliver to our members. And if you're EVER less than thrilled, just let us know by phone or email, and we'll refund your dues in full.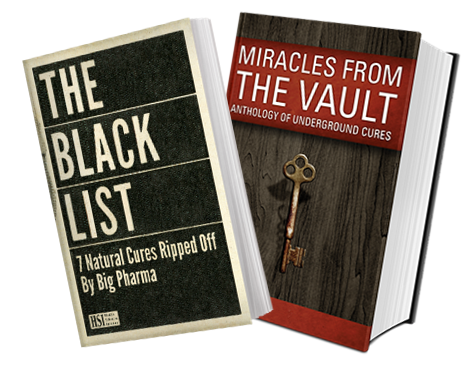 And you can KEEP your free gifts – both The Black List AND your 562-page copy of Miracles from the Vault – as our way of saying thanks for giving HSI membership an honest try.
All you have to do is click the big, red button at the bottom of the page that says "Send My FREE Gifts Now"…
Imagine if you had your copy of The Black List in your hands right now…
If you could find the answers you're looking for and see first-hand the proven natural cures that can lead you out of pain and disease…
I know you'd be SO THANKFUL you decided to become an HSI member.
Don't miss out on this chance to get your health, your energy, your LIFE back…
Before you go though, allow me to make this decision even easier for you.
If you accept our invitation to a risk free trial membership today,
I'll include ANOTHER free gift…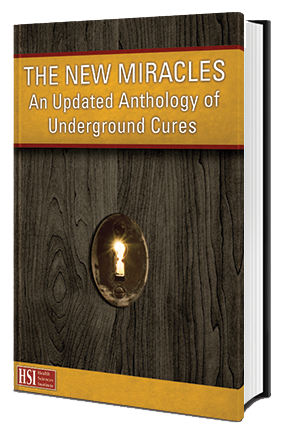 It's called NEW MIRACLES.
And inside, you'll hear the crazy story of how a Cleveland fry cook stumbled onto a heart health breakthrough that could make you virtually heart attack-proof.
It's true – the discovery began when he was looking for a better way to clean clogged-up grease out of his fryers. But what he found next is a GODSEND if you suffer with high cholesterol or blood pressure…
The full story is on page 21 of NEW MIRACLES – your free bonus when you join HSI right now…
This report contains the freshest, most exciting underground therapies our research team has uncovered in recent weeks, including…
These exotic flying bugs produce a substance that CURES gastric ulcers… fast. Page 55.
This all-natural "miracle molecule" for men can trigger a level of sexual excitement and performance that prescriptions can't even dream of… page 75
An "accidental" discovery that reverses male AND female baldness in just 6 months! Imagine how it'll feel to run your fingers through a full head of hair again… the secret is on page 1
Find out why the best thing you can do to keep your teeth white may be… never using toothpaste again. Seriously! Page 7
Guys: If you're waking up 3, 4, 5 or more times a night to use the bathroom, the problem is your prostate, right? Maybe not. Here's the OTHER part of your "plumbing" that could be causing your problem – and how easily you can solve it… Page 59
And that's just a sample of what you'll discover in your FREE copy of NEW MIRACLES…
And keep in mind, this 100-page update is in addition to your copy of the 562 page Miracles from the Vault… AND your copy of The Black List…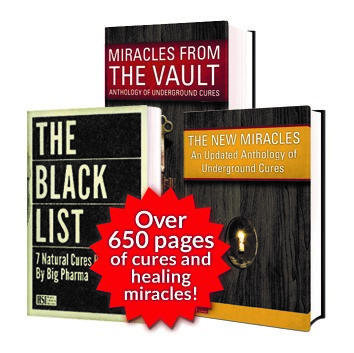 All 3 FREE when you accept our invitation. And all 3 are yours to keep forever, even if you cancel tomorrow…
But please understand – this invitation is extremely limited. So don't delay.
The sooner you click, the sooner we can rush your 3 FREE BOOKS – The Black List, your free copy of our 562-page masterpiece Miracles from the Vault: Anthology of Underground Cures, and the special member's only update, the NEW MIRACLES…
And you'll get INSTANT access to HSI's online archives – over 67,000 pages of cutting edge discoveries right at your fingertips the second you accept our invitation…
Click the button below to access your personal HSI membership invitation page.
Click now, so you can start to learn about the incredible natural chemo "wood" cancer treatment… plus our greatest secrets for beating Alzheimer's, diabetes, arthritis and so much more.
All you have to do is click the button below…